Human Resource and Payroll Audits

People are the single largest investment and expense for most employers. However, most employers devote little time or money to manage their most valued resource, their employees. A people and payroll management audit by HR One identifies both the successes and areas requiring attention within your organization when it comes to managing people. Our detailed analysis of your operation includes specific recommendations for improving your compliance with employment regulation, implementing HR Best Practices and establishing the right culture for your organization.
WHAT DO OUR AUDITS COVER?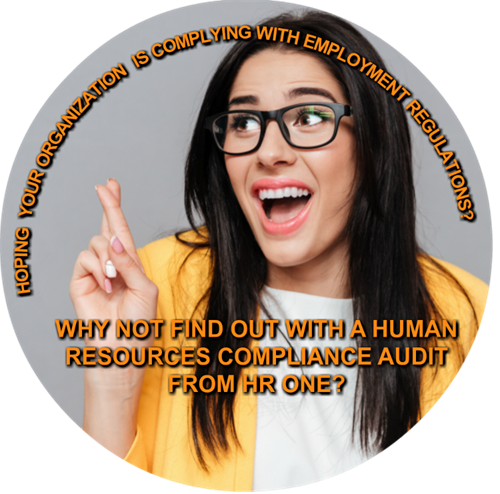 HUMAN RESOURCE PROGRAMS

Recruiting, Interviewing, and Hiring
New Employee Orientation Program
Employee Handbook
Job Descriptions
Performance Appraisals
Compensation Systems
Supervisory and Employee Training and Development
Corrective Discipline and Terminations

COMPLIANCE

Federal Employment Regulations
Fair Labor Standards Act (FLSA)
State Labor Regulations
Personnel File Record Keeping
Employment Posters and Licenses
Independent Contractors and Interns
EMPLOYEE BENEFITS

COBRA and HIPAA
Employee Benefits
ERISA – Summary Plan Descriptions

CLAIMS MANAGEMENT

Unemployment Insurance
Workers' Compensation

HUMAN RESOURCE PLANNING

Recommendations for HR Projects
Every small business will face challenges when it comes to human resources; whether it's complying with complex state and federal employment regulations, staffing issues, workplace conflict, or even attendance. Understanding where you stand and how to improve can make an enormous difference to your success. 
Our services can also remind you through our website.
We even have Facebook, Instagram and Linked in! Comment or like if your more of the social media type 😉