Benefits Of HR Outsourcing Services: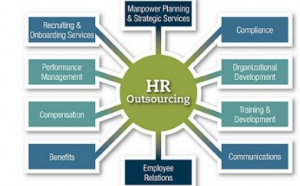 In the present day scenario, many corporate are seen outsourcing  their HR functions. Day by day, the HR functions are becoming more complex and time-taking. It is making no sense to recruit larger numbers of employees in your HR department and increasing the company liabilities.
There are many tasks in HR that can be easily outsourced with same or larger benefits than having one's own workforce. This has also resulted in a different market opportunity for HR professionals who are seeking jobs in organizations that are offering the outsourced services to the different companies. Have a look at the needs that have influenced the outsourcing of the Human Resources functions:
Cost Saving:

 Recruiting a number of employees in the HR department will involve the increase of the company's cost behind the employees. The outsourcing will make the cost center for HR functions show a lesser expenditure for HR functions. When your company expands and the employee strength increases, it will make more sense to outsource as per the requirement of the company.
To keep the normal process running:

Often there may be a certain need of information related to HR processing. This can be handled by the outsourcing team efficiently. If the HR team in-house has to work on it, regular activities may get hampered. The HR team of the company has more pressing tasks to perform that are more beneficial for the company's welfare and growth. Routine jobs or data processing jobs can be easily handled by the outsourcing team.
Problems faced due to resignations:

If an HR person suddenly leaves the organization, the areas which he had been handling tend to suffer for a few days. A proper replacement has to be recruited and the job has to be resumed. There are certain sensitive HR related jobs such as Compensation Benefits that cannot take a break. If you have an outsourced company doing the job, you can be assured that you do not stand the risk of the sensitive job areas getting affected.
Control of overhead expenses:

Maintaining a full-fledged HR team will require high overhead costs. You need to provide proper office arrangements with all the necessary instruments and gadgets which can lead to a high costs. If the company grows and the HR team has to be expanded, the overhead costs tend to go up further. This can be totally avoided if you outsource HR functions.

The above are the major benefits enjoyed among many when you opt for HR outsourcing. This process is hassle free and helps the employees to focus on the core needs of the company, which gives better results and makes the organization leaner and more efficient.