Office Space, New Website, Private Limited Company Registration at Just Rs.39000-/only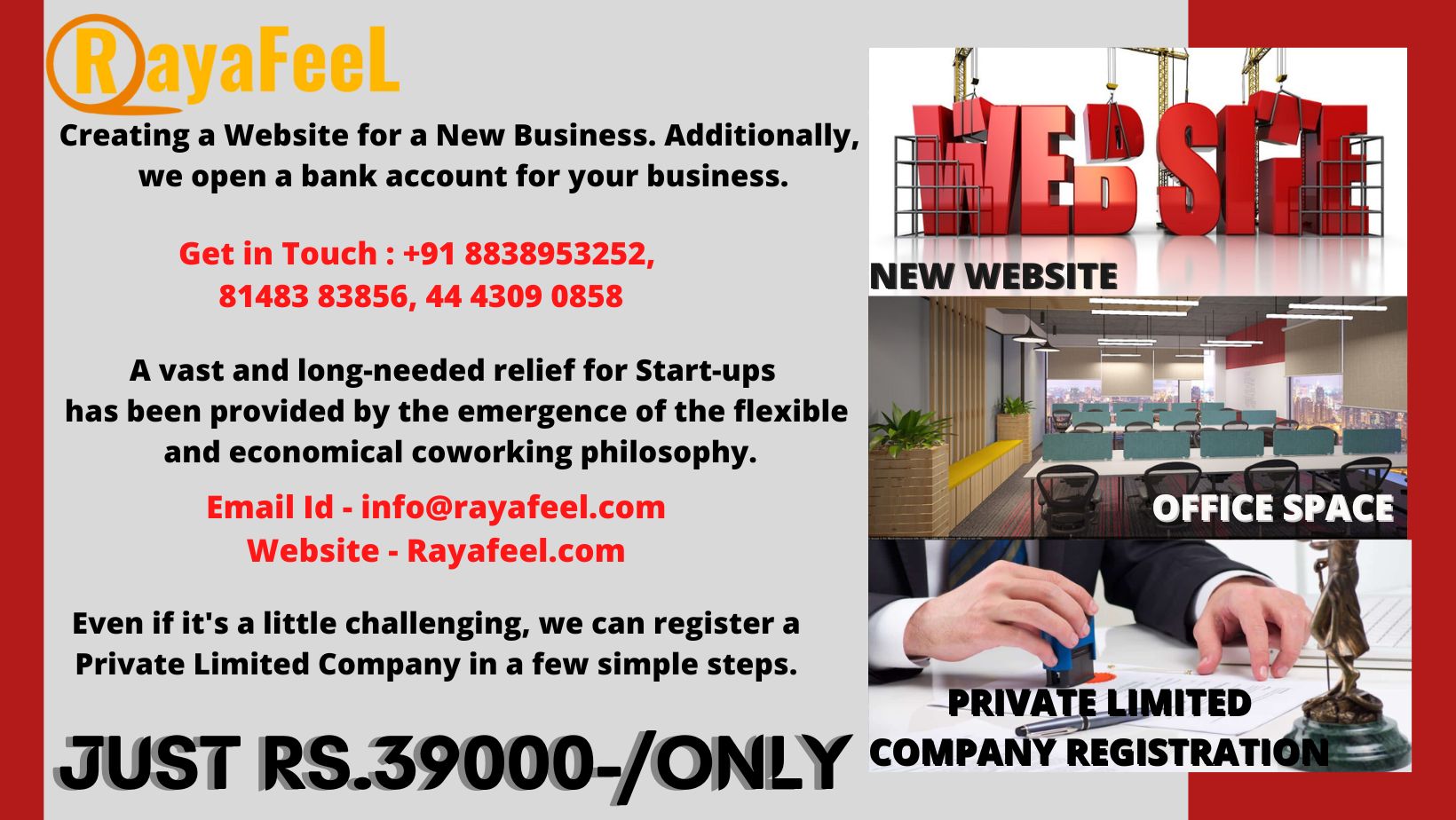 Startups were the first to become drawn to the coworking culture, but freelancers and start-ups were also drawn to shared office spaces. Coworking spaces quickly gained popularity in Indian cities, and soon after that, major corporations, multinational corporations, and even media outlets began to recognize their benefits. As a result, coworking spaces began becoming increasingly popular very quickly.
A more affordable option than renting or leasing
Leasing a typical office in an urban region has become a very pricey endeavor for a company of any size as a result of the quick rise in the cost of commercial premises throughout India. For start-up businesses and people who have not yet established themselves in their field and are unsure of their cash flow, the situation is even more concerning.
Coworking appears to be a welcome relief in this circumstance. To lease a typical office, you will need to pay a set up-front sum that includes a refundable security deposit, an upfront maintenance fee, and other costs for things like office equipment, technology, electrical fitting installation, etc.
Launch a New Website
With fresh search engine upgrades, updated website trends, new and developing features and functionalities, and so much more, the digital world is constantly growing. This can make it difficult for your brand to keep up a compelling online presence and to stay one step ahead of the competition.
However, by enhancing the general functionality and usability of your website, a website redesign can assist you in attracting potential clients and internet visitors.
You should want to showcase your newly redesigned or launched website to as many people as you can given the time, money, and effort that goes into it. You simply don't want to miss out on any of the opportunities that can be created for your company by doing so in a fun way.
It's also crucial to get team members, clients, and workers ready for impending website updates and adjustments. In light of everything said above, we've put up a list of fun methods to launch a new site design as well as the steps you need to take beforehand.
Private Limited Company Registration
There are numerous advantages to registering your business. A company can be formed in a reasonably simple and stress-free process that provides better legal protection.
1.You can restrict your own liability.
It is riskier to run a business since you are accountable for every part of it, including debts and losses. A limited liability company would allow the entrepreneur to take calculated risks without worrying about losing their cash or personal assets.
A registered business—a private limited company, limited liability partnership, or one-person business—offers its members limited liability protection as one of its main benefits.
2. Simple to Exit
The business is regarded as a distinct legal entity and is independent of its promoters when it is a registered business entity, such as a company or LLP. As a result, it's simple to transfer or divide ownership of a registered business.
3. Raise money for your company's capital.
As a corporation, it will be simpler for you to draw in investors and obtain capital for your enterprise. Lending to incorporated business companies is a preference of most banks and financial institutions. Therefore, registering a business is strongly advised if there are plans to raise loan or equity capital in the name of the company.
4. Boost your brand's reputation
For any future commercial contacts with third parties, registering a corporation is crucial. The majority of large companies that use supplier selection criteria tend to favor working with registered business entities.
Our services can also remind you through our website.
We even have Facebook, Instagram and Linked in! Comment or like if your more of the social media type 😉