Learn more about our full-service virtual office offering.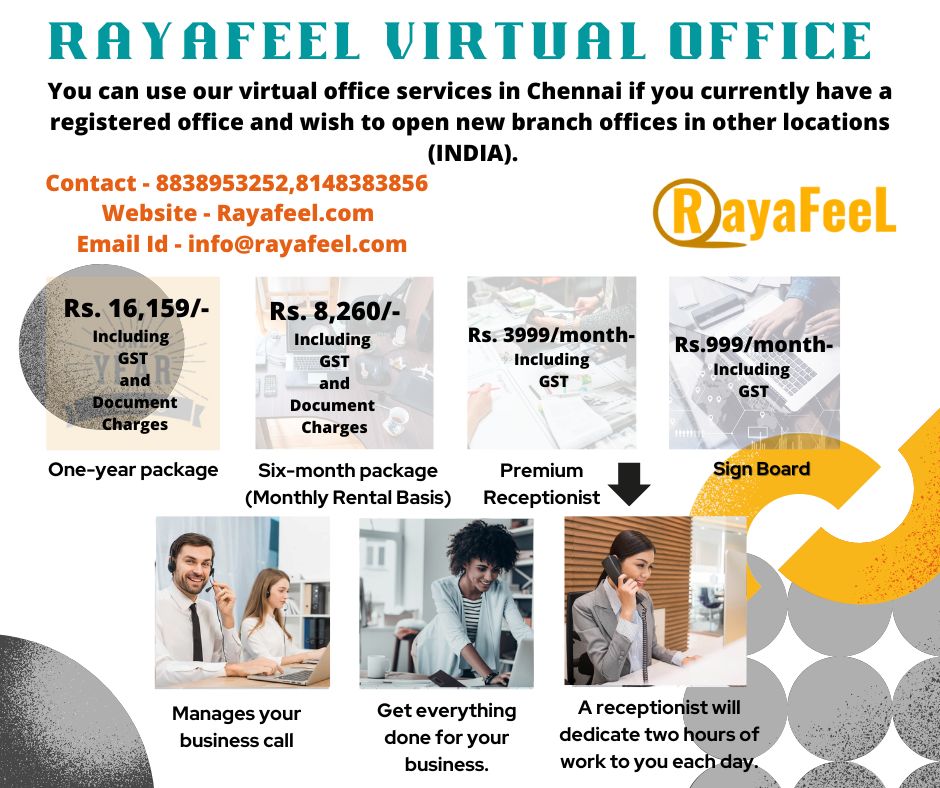 For business owners who operate from their homes, a virtual office service is very beneficial. By having offices in Chennai, it creates the impression that your firm is a much bigger concern and can help you build credibility among your peers.
Even if your actual firm is located somewhere in India, having a business address and phone number can give a significant degree of gravitas to your brand and image.
Get in Touch : +91 8838953252, 81483 83856, 44 4309 0858
Using our virtual office service has several advantages, not the least of which is the ability to significantly lower operating costs for your company since you won't need to pay for office space, full-time employees, power bills, business rates, or building insurance.
Having a full complement of administrative workers allows you to save money while yet maintaining the professionalism of your company. You can choose from a number of fantastic all-inclusive virtual office packages that we provide.
The one-year package costs Rs. 16,159/-including GST and document charges.
The six-month package costs Rs. 8,260/-including GST and document charges.
The rental fee is Rs. 999 per month. The rent should be paid on or before 10th of the every month. For the delayed rental, 5% of the rental penalty must be paid per day starting from the 11th of the every month.
The renewal cost is just Rs. 14,160.
PASSIONATE RECEPTIONIST
The monthly fee for this service, with GST, was Rs. 3999.
Everyday, a receptionist will put in two hours of extra time for you.
takes care of your business call.
Get everything done for your business.
SIGN BOARD
The monthly fee for this service, with GST, was Rs. 999.
To assist your audit, GST, and RoC, place a nameboard or sticker there
When we received your sign board design. We'll make it and prominently place it at our location.
Our services can also remind you through our website.
We even have Facebook, Instagram and Linked in! Comment or like if your more of the social media type 😉