An excellent chance for startups. Low Cost Rs. 39000 for Virtual Office, Website, and Company Registration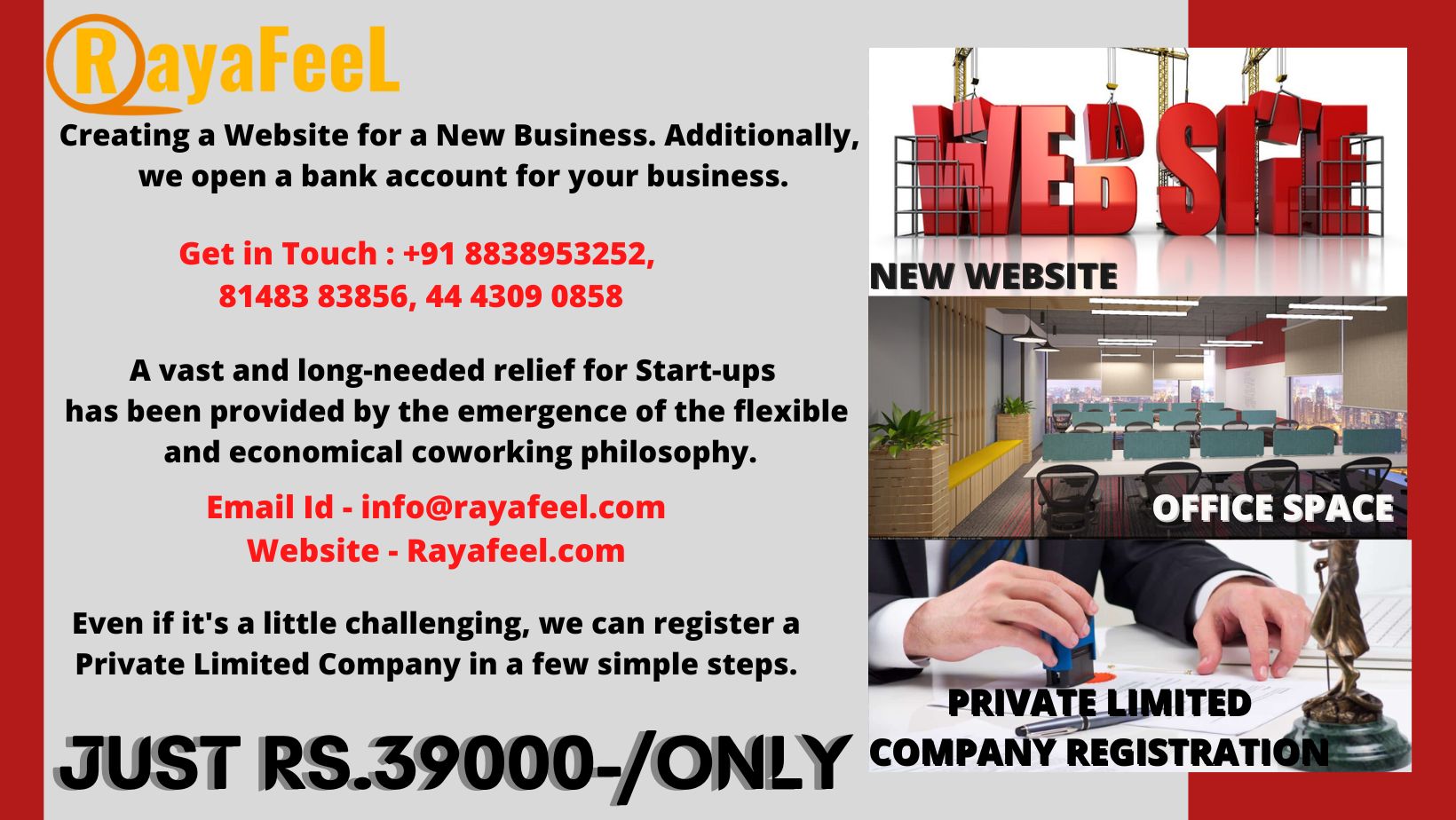 A virtual office, on the other hand, is a workplace in online. Executives, independent contractors, and other workers can considerably increase their flexibility when it comes to completing their work by using laptops and phones that are connected to the Internet, especially when compared to a traditional office environment.
One of the pioneers in the early days of virtual office testing, Sun Microsystems, discovered that staff working from home spent 60% of the time they would have spent travelling actually working.
Without a doubt, opening a virtual office for your company offers several benefits. Aside from the freedom, choosing not to work in a traditional setting reduces or completely eliminates that expense.
RayaFeeL Virtual Office in Anna Salai at Spencer Plaza offers you a fantastic way to establish a strong company presence in the middle of Chennai.
If your small business doesn't have a website? Okay, we're here to launch a website for your business.
A website is now a requirement to keep your visibility; it is no longer a luxury.
Customers use the internet for everything, including product research and business hours. Therefore, even if it's only a store that sells paint, it's no longer practical to manage a tiny business without an online presence.
It may seem overwhelming to launch a website for your small business, especially if you have no prior web design experience. You will undoubtedly need to collaborate with a creative digital agency if you require a sophisticated or massive website. You might be able to create simpler, smaller websites on your own! We also create a Bank Account for your company.
Private limited Company Registration
Legal Advice: A Step-by-Step Guide To The Indian Company Registration Process
A corporation is the most common type of company in India. All conditions must be met by a corporation that has registered with the Ministry of Corporate Affairs. The procedure for establishing a private corporation is described in this article. For the company in India, each compliance measure is described in detail in this tutorial.
Forming a private limited company
A number of documents are required in order to receive a certificate of digital signature.
There must be a DIN document.
The Best Ways to Name Your Private Limited Company
Necessary paperwork for forming a private limited business
Our services can also remind you through our website.
We even have Facebook, Instagram and Linked in! Comment or like if your more of the social media type 😉