Important Guide to private limited company registration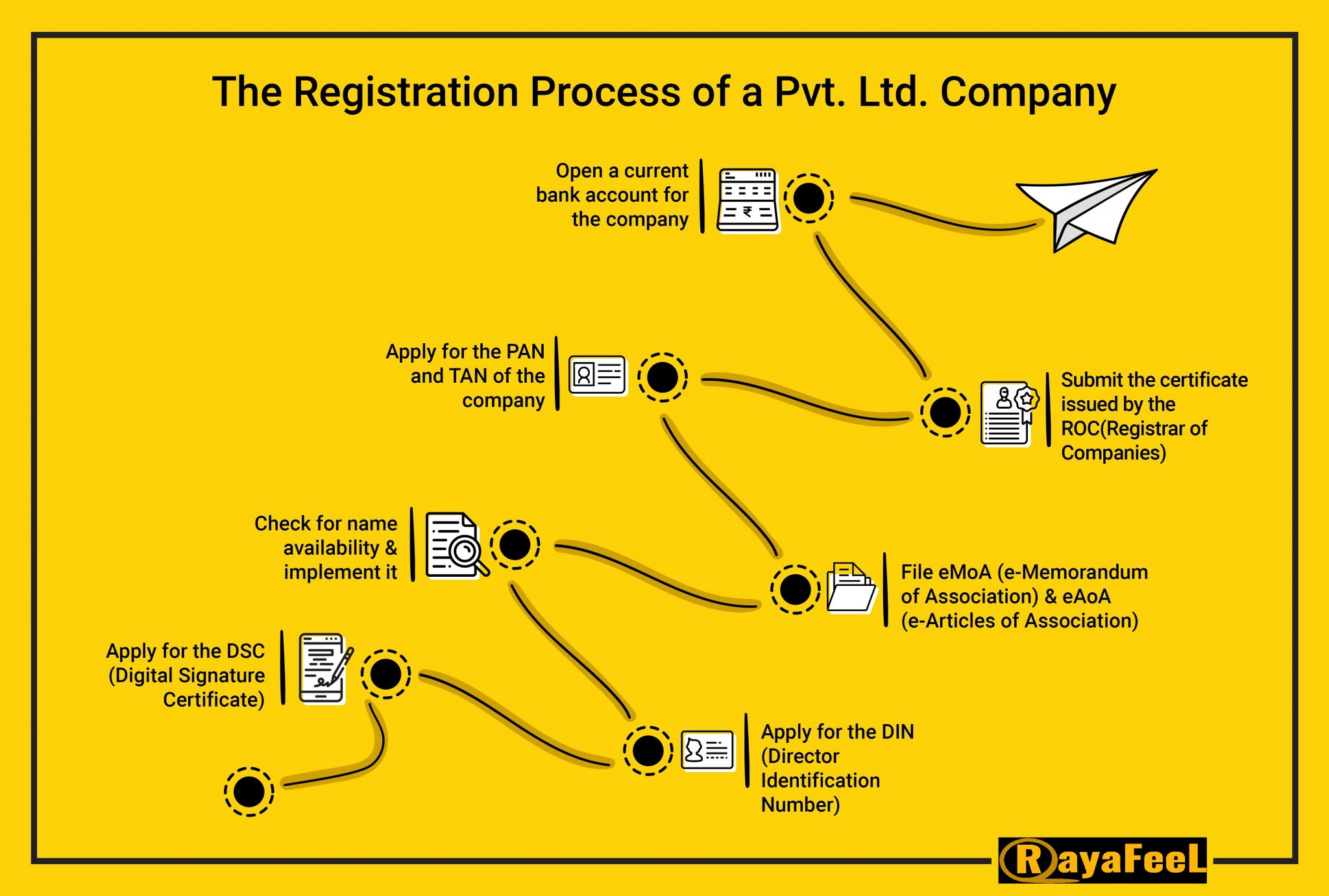 Private limited company registration is considered as one of the important and most popular type of business registration in India for it advantages and power for brand promotion. As you have landed in this page after you have decided to register private limited company for your business, let us give details and process of private limited company registration and critical things to take care after private limited company registration.
Its more than a decade when we can get a desired name for private limited company, but nowadays due to enormous number of existing companies registered and trade marks applied it is becoming a hard task choose and select company name.
Top 10 tips to choose private limited company name
Prefer minimum 3 words in name, longer name provides better understanding of company business
Choose name that describes your nature of business clearly
Select unique name so that there will be no confusion with any other company in similar business after approval
Chances of approval will be higher in case new word is coined eg : Zomato ,  Swiggy,  Dunzo. Most of the good Dictionary words is already included in most of the company names.
Do not use offensive word
Ignore list of words prohibited by company naming rules
Names with internet domain extension is not allowed
Names with same phonetic sound, singular, plural, will not be approved
Perform trademark search for all possible matches before application in similar business code
Perform company name availability check with different spelling for same name, use contains option while name search.
Once all preliminary points are considered at business owner level it is advisable to consult with your company registration consultant service provider for getting better understanding about availability of company name.
2 options for company registration process
Option 1 : Separate Name approval +  Separate documentation 
In this process name approval application is first submitted, no other documents for company registration will be submitted this method is suitable when chances of name approval is at complete discretion of registrar, for example our proposed name may be similar to some other names but if we still need to take a chance for getting a name we may go for this process as it is not consuming.
Option 2 : Integrated process

In this method name approval application is not submitted separately, proposed names are to be submitted with all other documents required for company registration , this method is suitable when we are more confident about approval of proposed company name. This method is time consuming if name is rejected as we need to prepare all documents once again with proposed name.
Apply ESI or PF separately do not apply in integrated form as approval of company registration certificate will be delayed.
3 critical tips for Quick approval
Submit clear and legible self attested latest documents required for registration
Draft clear and specific main objects for business
Avoid submitting unnecessary declaration in case of re submission query provide details as mentioned in re submission query.
5 Must do things after private limited company registration
Appointment of auditor
Maintain proper and accurate accounts as per income tax act and MCA rules
Implement internal process for compliance to Companies Act and Income tax act.
File all income tax and MCA returns on time
Consult with you business advisor for day today legal compliance
Registering a new private ltd company is easy task with the help of best company registration providers, it is the primary duty of the directors to comply with all the regulations under MCA, non compliance of MCA rules and regulations will result in large amount of penalty and results in strike off of company for continuous failure in filing MCA returns.