How to bring modern office design to your workplace
So, you're thinking about modernizing your office space but don't know where to start? In this article, I will guide through the entire process of modernizing your office space or workspace. We'll also be learning about some cool interior designing work that you can do without the help of an interior designer to blend your office with modern aesthetics.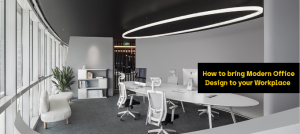 How to bring modern office design to your
Simple is sound.
Have been to art galleries that display paintings painted by great artists? Did you notice how the curators use one wall to display just one painting, and the most amazing one has an entirely dedicated section? Well, the reason behind that is, they want you to spend as much time possible with the painting. Adding more paintings beside it would divert your attention, and that is the last thing that they want. 
Likewise, keep your office interiors simple, but whatever you're adding, it should be oddly satisfying. You could also remove items from your office and enhance its beauty. So, if you have boxes of things that you ordered for your office, you can get rid of them. Or if you have a lot of decorative elements, please get rid of them, as well. 2020 is the year of minimalism. So, keep it simple but keep it sound. 
Suggested Read: What type of desks are best for your office?
Lights lit the location
Now, that you know, the basic rule of designing your office, let's get to it. The first subconscious thing that happens every morning whenever the first person enters the office is, they turn on the light. So, let's start with that. 
Look around your office and find out colors that are present in there. If there are too many dark colors, then you should get a bright light. Why? Because dark and bright contrasts well and enhance the atmosphere. But if you have too many bright colors around, then get warm lights. Or you could even play around with lights. The play area could have warm light, and the work area could have bright white lights. This way, you can create two environments in your office. 
Please avoid getting colorful lights as they don't look professional. 
Furniture is fundamental
2020 is not the year to draw more dividers. It's the year to erase that separates. So, ditch the cubicles and get some cool desks that have no dividers in between. You can easily find them at discount stores. Your employees will love these desks because now they can easily communicate with their colleagues. 
For your breakout space, you could get some bean bags. They're super comfortable and fairly priced. After enhancing your break out space, you should move to cabins and meeting rooms. They could also get a makeover. 
Also Read: Benefits of Co-working Space
Technology for transformation
Your next attention should be towards transforming your office technology. If you have a projector and a white screen, replace that with a TV as it takes less space. Moreover, you can arrange all your cables in an orderly fashion. Doing so will neaten the space around your feet. Also, arrange iPhone and Android chargers for your guests. They will love it. 
Shop some prop
If you have a plain white office, you can shop for some props to make it more colorful. But pay close attention to what you are buying. It should blend with your office theme. One universal thing that goes with every office theme is plants. Get some cool plants and creepers for your office. They will make you feel good and keep the environment cool. 
Lastly
The last thing you want to do is use your walls as a canvas of creativity. Paint something cool or past motivating posters. Make your walls talk to you and your employees. But always remember to keep things simple and sound. Don't go overboard. 
Our services can also remind you through our website.
We even have Facebook, Instagram and Linked in! Comment or like if your more of the social media type 😉