Build with the future in mind? Rayafeel is available to assist you for just Rs. 39,000-/- with Office Space, a Website, and Company Registration.
The first reason is that they are "affordable." Your company can have a serviced office space that comes with a variety of services in 2022, when most people cannot afford a typical workspace.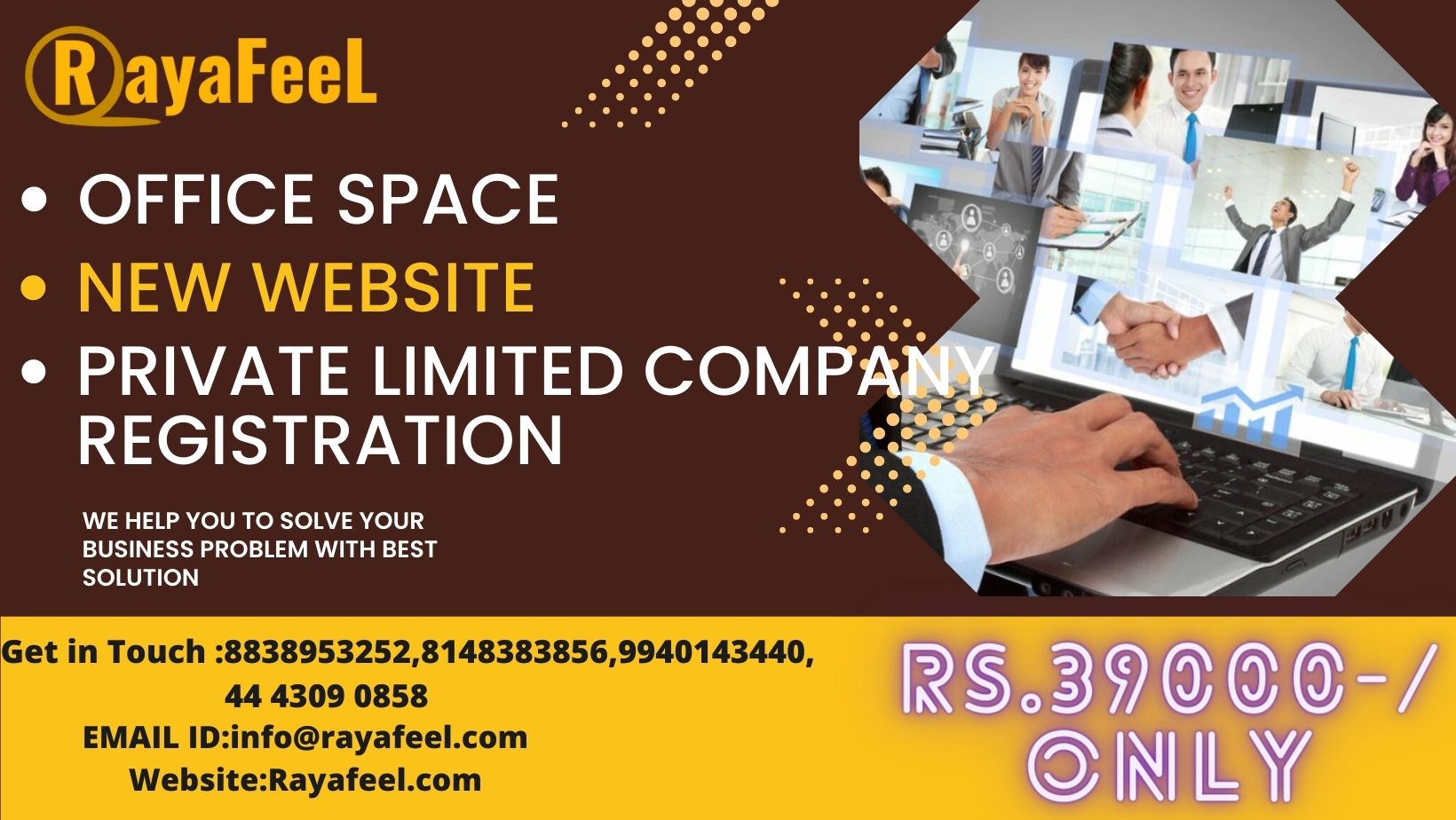 Prime location: The coworking spaces are typically found in the most desirable parts of the city. Who wouldn't want their company to be situated in an elite area? Your company's address conveys a lot about it and has an impact on your reputation.
Networking possibilities: Collaborating with other businesses gives you the chance to meet people and establish connections. You can never get this kind of exposure to professionals from other sectors by working alone or with the same group of coworkers.
Flexible working: These workspaces give you complete freedom over how and when you start and end each day. Whatever suits you best, pick a desk, a conference room, a cabin, or a beanbag. Enjoy the freedom to relax while working in a professional setting.
Cost-effectiveness: Working from a plug-and-play office space is an incredibly affordable alternative because it comes with a cafeteria, parking, CCTV, lockers, printer, electricity, housekeeping, and other amenities that are included in your membership.
Increased productivity: Coworking facility participants have admitted to being more at ease, content, and having a better work-life balance. People work better and are more productive when they are happy in the environment they spend the majority of their waking hours in, such as a coworking space.
To create a Future for yourself for your business, develop a new website.
Small business website development offers details about your organization or serves as a straight e-commerce platform.
Prior to building a website, it's critical to establish the key objectives because doing so will assist you decide on the layout, potential dangers, and duties.
A website will typically have more duties if it is more participatory. Some websites could be simple because they only wish to list their services, location, and business hours. Others might want to interact with their customers through competitions, discounts, message boards, and other means.
Company Registration for Private Limited
One of the highly advised strategies to launch a business in India is to establish a Private Limited Company. This kind of business offers its stockholders limited liability along with some ownership constraints. An LLP has partners who are the company's owners and managers. Directors may be different from shareholders in a private limited business, however.
RayaFeeL provides inexpensive, rapid company registration services in India. 
We handle all legal requirements and comply with them as set forth by the Ministry of Corporate Affairs. You receive a Certificate of Incorporation (CoI), a PAN, and a TAN after the company registration procedure has been approved. Additionally, we set up a bank account for your company.
Our services can also remind you through our website.
We even have Facebook, Instagram and Linked in! Comment or like if your more of the social media type 😉