A Place to Grow Your Business with the Help of RayaFeeL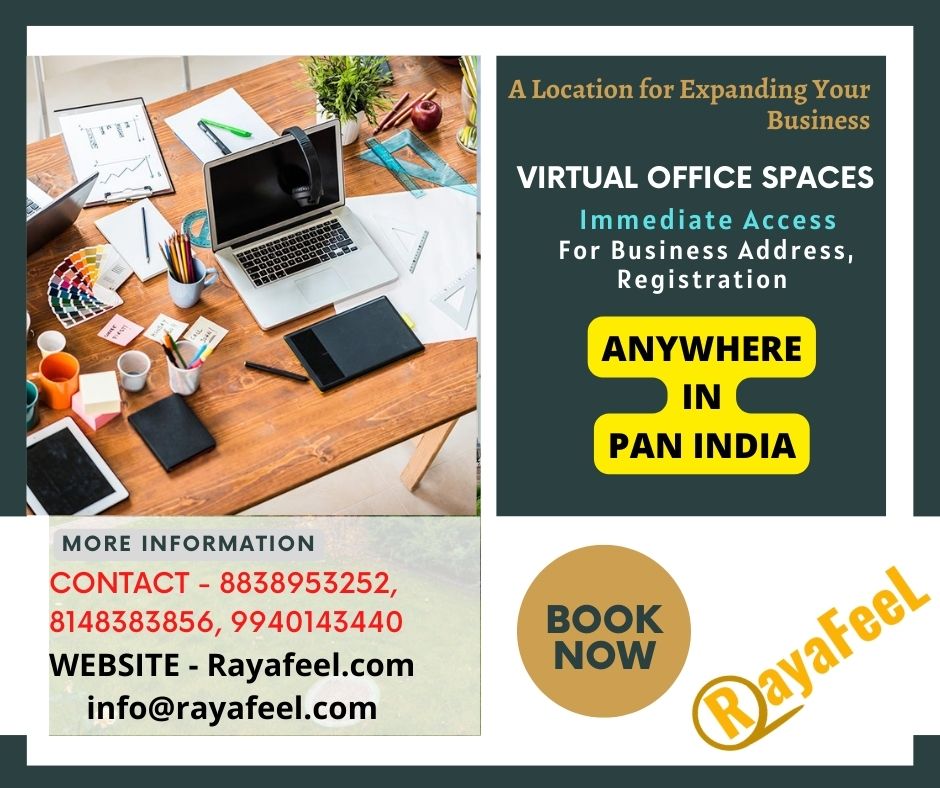 The great lockdown undoubtedly made you a business owner and made you learn some extremely difficult things.
You need to be ready because unanticipated events like the Covid-19 pandemic might literally take you off guard.
Even if everyone cautions you to be prepared for the unexpected, it can be challenging to completely understand this and understand what the future may bring for your company.
After all, nobody enjoys contemplating what might go wrong.
But in reality, if you don't prepare for the worst, your company will probably crash into the Valley of Death for entrepreneurs.
Important suggestions for selecting the ideal virtual office in Tamil Nadu for your company
A firm must have a registered office address in Tamil Nadu as one of the conditions for incorporation.
In the past, companies would lease a physical place to serve as their office. But lately, several organizations have opted to employ virtual offices, in which they rent a physical address and use it as their own.
Over the years, the use of virtual offices has grown in popularity, especially for small businesses.
Virtual office packages typically contain services like business addresses, communication services including phone and receptionist services, and business meeting rooms, though each plan is different.
Price
The expense of using a virtual office is a crucial factor for business owners.
A virtual office package may cost as much as a few thousand rupees per year to rent.
The cheapest virtual office solutions, however, occasionally simply come with a mailing address with the opportunity to add on other services.
In contrast to more expensive package alternatives that come with more prestigious addresses, their addresses might not be downtown.
Additionally, make sure there are no additional fees included in the virtual office package you choose.
For example, some virtual office providers charge extra for mail forwarding services.
To avoid these unintended fees, you should thoroughly read your agreement.
Services
The utilization of a virtual office gives business owners greater flexibility than hiring an actual office space because it enables them to select the kinds of services to subscribe to.
Mail forwarding, corporate secretarial services, and an office phone are a few examples of these services.
It is crucial to understand the services that are included in each bundle and whether they are adequate for your company's needs.
Additionally, it's crucial to confirm that the virtual office provider gives you the choice to add on services to match your company's future needs.
Timeframe for Subscription
The length of your subscription is a further crucial consideration.
Some virtual office service providers need a minimum 6-month commitment.
To meet your company's demands, you might be able to agree on a longer or shorter term with your provider.
Subscription Termination
The terms of termination and renewal, as well as whether or not a reimbursement is available in the event of termination, should also be taken into account.
This will provide you the freedom to switch virtual office providers if necessary.
Location
Even if you might conduct your business remotely, customers might still need to come into your office.
It is crucial that your virtual office is reachable as a result.
The branding of your company may be impacted by the location of your virtual office.
Customers' perceptions of your company may be influenced by factors like the building's style and facilities, as well as how central the site is.
Finding a virtual workplace that works with the image you want to convey is crucial.
Our services can also remind you through our website.
We even have Facebook, Instagram and Linked in! Comment or like if your more of the social media type 😉