Why Choose us for Web Development?
What exactly is web development?
        Web development, also known as website development, refers to the tasks associated with creating, building, and maintaining websites and web applications that run online on a browser. It may, however, also include web design, web programming, and database management.
What are 3 types of web developments?
Here are the three main types of web development:
Front-end web development,
Front-end web development is responsible for the look and feel of a website,
Back-end web development,
Full-stack web development,
Web designer,
Web programmer,
Content developer,
Webmaster etc..
RayaFeeL Technologies, a web designing agency understands the vitality of the proper process that should be in place while developing websites and web applications in order to maximize leads and conversions. We offer following reasons for choosing us for any web designing project: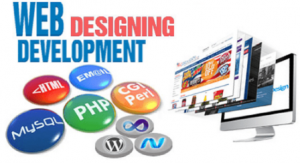 RayaFeeL is a website designing company in Chennai that has a fully professional, experienced and highly innovative team of web designers.
We always implement fully-planned, time-bound and international level best software development and project management practices and processes like Agile Methodologies which always deliver best results.
We offer a personalized and consultative approach to your web application development & website design services.
Before start working on the web project, first we do a full and thorough research on your business requirements, needs, values and your potential customers and competitors unlike other website design agency.
We have employed best quality assurance measures and testing principles that enhance our quality of being a great web designing company in Chennai, hence we fix issues quickly and in most efficient way whenever they arise.
We are a web designing agency having a team of highly experienced web application development and website designing experts.
Through our web designing services, we work towards our aim of maximizing your business objectives by providing you a fully interactive, engaging and out of the box web application which satisfies you as well as your clients or whomsoever uses it.
We are one of the few web designing agency in Chennai  that offer round the clock, 24*7 Technical Support for the web designing work we do, so that our clients can run their business uninterruptedly.
As we have most experienced and expert team of web designers, hence we manage to offer highly competitive rates for our web designing services which you will not get elsewhere.
Hence if you have any requirement of Web Designing then do contact us today as we provide high quality web solutions which will surely add more feathers to your business by making it more useful, popular and highly successful in the market.