Why using a Virtual Address is Recommended while forming a Company Anywhere in India.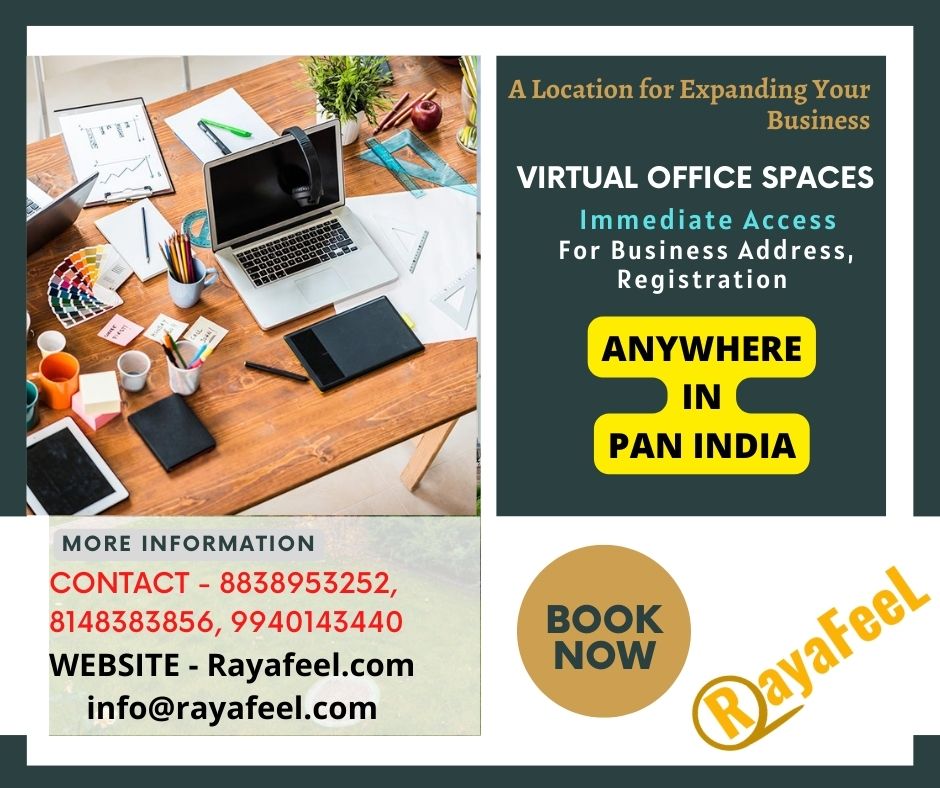 Any person or firm can easily form a company anywhere in India thanks to RayaFeeL.
Without an address for your business, you cannot register a company. Additionally, the address is out in the open for everyone to see.
Factors to consider when choosing a virtual address when creating a company
Privacy – All business addresses are public information, therefore anyone can find the address of a firm. Therefore, you automatically forfeit all of your privacy rights if your firm is registered to your home address. You can avoid giving up your home address by using a virtual address as your company's registration location.
Save money – A variety of businesses provide virtual address services. Depending on your needs you should be able to find a company that offers the right service to fit your needs. These service options are typically significantly less expensive than what it would cost you to open a physical office in the area you wish. We are one of India's most affordable virtual address and office suppliers.
Mail Handling – Mail handling is a function shared by all Virtual Office Services. At RayaFeeL, we will receive mail on behalf of clients and then send it to them by conventional mail or scan to email. From most of our business centres, we also provide a post collecting service.
Avoid junk mail –  Junk mail includes letters, postcards, and brochures. They all share the trait of being unwelcome correspondence. You will benefit from additional convenience and time savings because the majority of virtual office providers will immediately discard any mail that may be classified as junk mail.
Convenience – With the help of modern virtual address service providers, a company can easily set up a virtual office location. You may instantly set up an address with only a few clicks. When you buy a virtual office through the RayaFeeL website, we promptly give you a virtual address with your own particular office or suite number. You can be set up in a short amount of time. When getting a physical location for a business, the process can take weeks or months.
No Wanted Visitors – One of the primary advantages of using a virtual address is that since your personal address is private, you won't have to worry about any unwanted visitors. Door-to-door salespeople and rude suppliers or clients that drop by without an appointment could be examples of this.
No long-term obligations –  The majority of virtual office companies will offer you a brief contract. Our contracts at RayaFeeL have a 180-day length and automatically renew. This gives you the freedom to terminate your contract at your half-yearly billing date without incurring any fees if your business is not moving in the way you want it to or if you need to alter your company's registration address. When compared to having a real store, office, or unit for your company, the process is far more difficult and expensive. Long-term leases that have penalties for early termination are most likely in place, making termination a challenging and potentially expensive process.
Additional Services – The majority of Virtual Office providers should be able to supply you with additional services to help your company. At RayaFeeL, we specialize in offering Business Support Solutions in addition to Office Rental Solutions. This covers affordable conference space rental, business phone lines, creating a company logo, call answering services, and much more.
Our services can also remind you through our website.
We even have Facebook, Instagram and Linked in! Comment or like if your more of the social media type 😉