RayaFeeL Introduces The Most Reasonably Priced Virtual Office Throughout All of India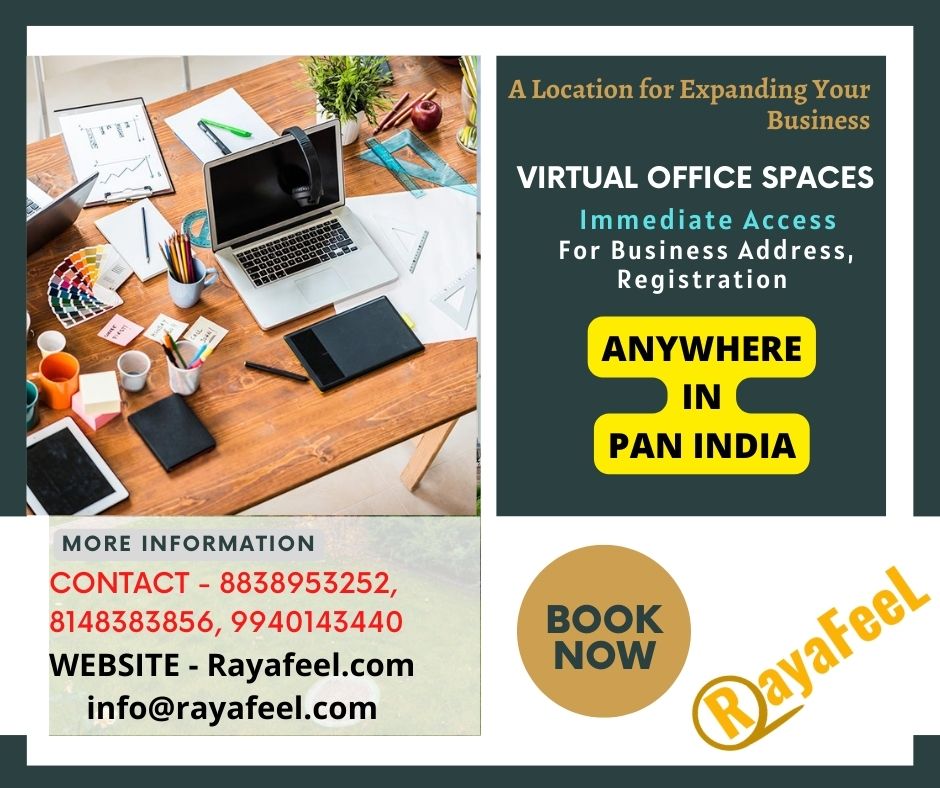 Entrepreneurs, freelancers, media professionals, artists, and small- to medium-sized business owners who want to display a registered address in all of their official correspondence without owning or operating from the premises can take advantage of RayaFeeL's virtual office service, which is offered at an affordable rate by one of India's top providers of shared office space.
To finish the government registration procedures, get a Gumasta license, ROC, or put the business on Google, an official address is a required. We also provide the fundamental virtual address option.
This strategy calls for the use of a virtual address, public display of the firm name and logo, and employee mail handling. The price of the one-year plan, including GST and document fees, is Rs. 16,159.
The Following benefits,
To represent the presence in the office, display the firm name and logo on the company board.
Deliver all official mail and packages to RayaFeeL's address, where they may pick them up whenever it's convenient.
To obtain ROC registration, GST registration, Google listing, trade license, and to create a current account, use RayaFeeL's official address.
With a single click of the mouse, gain access to conference rooms for business.
Obtain a NOC from RayaFeeL for the registration of the ROC and GST registration office.
Get a utility bill to prove your address.
Get membership flexibility based on your requirements and interests.
RayaFeeL has developed a system whereby the customer can utilize RayaFeeL's official address as their address in all official correspondence and government requirements in light of the high expense associated with owning an official location.
The business owner or freelancer will only have limited access to all the amenities available to normal Coworking space members because no Coworking seats will be allocated under the virtual office option. They can, however, reserve a meeting space in advance.
Our services can also remind you through our website.
We even have Facebook, Instagram and Linked in! Comment or like if your more of the social media type 😉