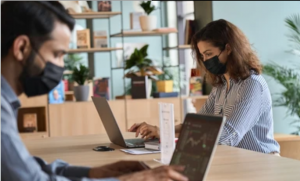 We provide flexible options to suit every stage of a business.
Whether you are looking to move from your home office, upgrade your existing office space or simply need a flexible project space for your team, Central House has a range of workspace options.
Beautiful Spaces and Offices For Entrepreneurs and Teams. Open Desk, Dedicated Desk & Private Offices | Book your Private Tour Today. On-Site Wellness Classes. On-Site Gym. 5-Star Facilities. Community Event Program. Indoor Basketball Court.
We Have Got the Right Space for Every Need. Flexible Office Space in RAYAFEEL. Monthly Plans. Fast Internet. Meeting Rooms. Central location. Unbeatable views.  All Modern Features.
Work alongside like-minded professionals in our vibrant co-working spaces. Drop in and hot-desk or reserve your own space in one of our shared work spaces, across thousands of locations.
Our fully-equipped work spaces have everything taken care of – from the furniture to the high-speed Wi-Fi – so you can focus on driving your business forward.
Networking: Co-working space increases the chances of meeting like-minded people is a great incentive for your business development. You get to interact with people from various industries and sectors. It only fosters a sense of community, but interacting with high-performing individuals will also boost your own self-confidence along with opening doors for enhancing your service.
Professional Address
Coworking spaces are centrally located within a city, close enough to public transport and restaurants, and also convenient for members to work from. As a business owner, working from home or café might not send the right message to your prospective clients, thus, coworking space offers not only a professional space but also dedicated meeting rooms, cafeteria and coffee zones to help you network better.
Finding Your Spot
A shared space allows a person to move around the workspace to find the best areas for yourself. At different times of the day, your mood might be different and changing spots might improve your productivity. Experimenting with different corners at work, you will find the best spots for yourself. Co-working space is great for people who like to move around while working.
Great Offers and Discounts
Working from a shared office space has a variety of benefits. Such co-working spaces offer a lot of discounts to members. Stay updated with the latest offers make the best use of it. Such offers and discounts are provided to make a member's life in the co-working space convenient and enhance the work-life balance.
Attend Events
A lot of co-working spaces go to great lengths by conducting events. Be an active participant to such events. It not only helps you learn new things but also provides the opportunity to meet and interact with new people.
Improve Productivity
Around 68% of people find they can focus better while working in a co-working space. If you prefer to work out of office but yet in a professional zone, renting a business space from a co-working site will improve your focus level. Plus the additional benefits a co-working space provides will always outweigh the cost.
Flexibility
Co-working is about being flexible. Choose the day and time of your work and get there, it's that simple! Renting office space from an agile workplace offers you the chance to take charge of your own day without the hassle of owning an office. It's basically, one less key to worry about!
Reduce Operational Costs
For small business owners, having a dedicated private office space might seem costly but working within a co-working space, the benefit of using shared amenities outweighs the cost.
Place To Learn
The working environments in a co-working office space allow for interactions with people with a different mindset, skills, and knowledge. This can improve a person's outlook and provides a learning opportunity to either up skill themselves or improve their own productivity.
Mental Well being
Working in a shared office space is a way to meet new people and increase your own network. This helps in avoiding loneliness, improving interpersonal skills, offer various self-improving workshops which can help in boosting your productivity.