How Coworking Spaces Helps You in Your Business
Have you recently ventured on in a start-up? Feeling flabbergasted to invest a huge sum in infrastructure?
A Coworking Space is the best solution for you then. The concept of a coworking space is quite noble, to begin with. Allowing more than one business to operate from one single location without any hiccups.
What is a Coworking Space?
A coworking space has completely revolutionized the traditional concept of an office setup. Deriving an idea of creating a work space of a colossal of different companies or employees from different organization, a coworking space has come a long way and is now an industrial phenomenon. The current trend of majority of start-up or small businesses opting for coworking space can be discerned from the fact that-
Currently there are about 14,411 coworking spaced around the world.
The average area of a coworking space has increased from 15,000 sq. ft. to 22,300 sq. ft. in the last two years.
India is expected to see a whopping $400 million investment in coworking space by 2018.
The number of workers opting for coworking space is expected to rise to an astounding 5.1 million figure by 2022.
Facilities A Coworking Space has to Offer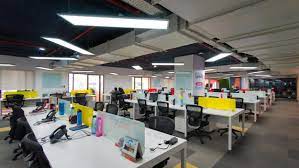 People choose a coworking space over other commercial spaces so that they can-
Have flexibility to manage their businesses.
Have a hassle-free office setup that can release a huge burden off their shoulders
Separate workstations and meeting rooms,
Easily setup events and other functions to pull off their business goals.
Get access to a cost-effective solution (No hassle to manage administrative goals).
Identify networking opportunities in a closed but diversified work environment.
And several other features.
How is a Coworking Space suitable for a Start-up?
Marketing, Sales, Distribution-entrepreneurs have a lot of areas to work upon even in a start-up venture. The idea behind the inception of a coworking space to help a solo entrepreneur or a partnership firm to-
Have flexibility of attending meetings,
Complete their marketing tasks,
Invite clients and conduct sessions in a professional and welcoming set up,
Have easy rental options with flexible hours,
Network with other businesses working from the same space,
Identify solutions to their business problems by observing other companies,
And much more…
Given the paradox of complex daily activities performed by organizations, small companies per se, a coworking environment offers the entrepreneurs with a breath of fresh air.  RayaFeeL Coworking Space eases the burden off the shoulders of its clients by facilities like a hassle-free office set up, conference room, separate workstations, 24*7 Power Back Up, a High-speed internet access, a cafeteria with unlimited tea and coffee for refreshment, and over and above a fit environment.