How Does Web Hosting Work?
Introduction to Web Hosting
Web Hosting is a service that allows others to view your website on the Internet. A web host offers space on their server to allow other computers worldwide to access your website via a network or modem. Providers of web hosting services have servers, connectivity, and related web hosting services.
There are literally thousands of web hosting services out there, from free facilities with limited optional services to costly, specific to specialized web hosting services. They cover the range of hosting needs from small blogs and major organizations by offering unique hosting programs.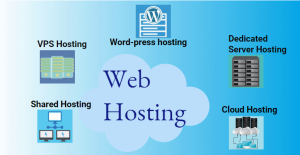 How Does Web Hosting Work?
You need to set up, store and sell your products if you want to start a business in the real world.
Exactly the same thing in the digital world; the same rules apply when a website is created.
In the websites, you have a number of files, images, and HTML code in your website when you establish an online business. If you don't have space online, then your data or file will not be set, and because of that, no one can see your domain on the internet.
A hosting operator will store all your files on a server and will be responsible for supplying your site files once a browser requests to be sent by typing your domain name. Simply we can say that you rent storage space on the internet when you pay for hosting services – just like you would rent a physical store.
While cPanel is a powerful tool that was used by most web hoster, it can be intimidating for non-technical users who simply want the site to work and operate quickly.
In addition to providing your website with server space, hosting providers can offer other website-based services such as:
1. Certificate of SSL.
2. Page Builder.
3. Live chat. (customer support services)
4. Software install with one click. (Drupal and WordPress)
Web hosting and domain registration?
      A domain name is a string of characters that identifies a website. It is what users type in their browser to visit your site. Web hosting is a service that provides space on a server for your website files, allowing it to be available on the internet.
What is a Domain Name?
Let's talk about domain names before we are moving to more depth. When you are starting or thinking about the online business, the first that comes to mind is a domain which is your web address or company name. on the internet.
For example, what will you do if you have a shop and someone wants to visit your shop? First, you will provide the address to that person exactly the same if someone wants to visit your online business, then you will provide your domain name to her.
Whenever a person types your Domain Name, the hosting company transforms all the files connected to your IP address and returns all the images, videos, and words on your website.
Each domain name is unique as like your registered address. So, whenever you open a new website, you will be able to select a name that is a reflection of your brand.
 Domain and hosting services:
While closely related, web hosting and domain hosting are two different services. Web hosts store content, like a website, on internet servers. Domain hosts provide domain names, which are the addresses that help visitors access website content.
Our services can also remind you through our website.
We even have Facebook, Instagram and Linked in! Comment or like if your more of the social media type 😉