The best virtual office in rayafeel company chennai.
RayaFeeL  offers Virtual Offices in Chennai, give your business a local presence with only less than 5% of the cost of setting up a physical office space.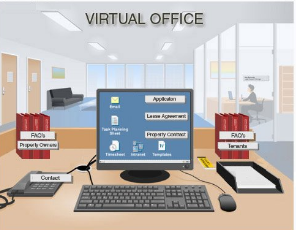 You can impress your customers by showing a Virtual Address, Local Phone Number and Fax Number on your business card, website, ads, brochure and so on. Have your calls professionally answered in your company's name by highly trained female representatives. We also offer Virtual Office for Company registration, GST Registration in Chennai.
Rayafeel now offering Smart Space in Chennai.
If you are looking for a professional space to hold your next Meeting, Conference or Training, our "Smart Space" is a convenient and cost-effective alternative.
You can now impress your customers, partners or investors by getting our business center with all modern facilities. Rent our "Smart Space" by the hour or day, so make good savings on your budget!
Be it an interview, company presentation, training, board meeting or your business conference, our stylish and comfortable shared office facilities will leave the right impression on everyone's mind. Our meeting and conference rooms are equipped with the all advanced technology features and are available to you at very competitive price. You will get the below features in all our center.
High Speed internet @ 20 MBPS (WIFI or wired)
LCD Projector
Air Condition
Audio/Video Conferencing
White Board
Audio system with Wireless Mic
Podium
Pantry
Food Catering
Video Conferencing hall in RayaFeeL Chennai:
Video Conferencing :
Is now a days used by many businesses for their  board meetings, conducting interviews, meeting clients and so on. We offer Videoconferencing in Chennai it is in huge demand. Video conferencing helps many businesses in Chennai the way they do business. Our VC service allows face-to-face meeting with customers, colleagues, and suppliers around the world in HD quality.
You may be looking for a Video Conferencing facility near to MG Road, Chennai. However, now a days people like to do their meetings away from city because of better car parking space and less traffic. Also these locations are connected by Metro.
Similarly our In Chennai location is equipped with 3 Video conferencing rooms. You may be looking for a Video Conferencing facility near to Chennai, Our location has lot of free car parking space and less traffic. Also these location is very close to Metro.
Sometimes you need to meet with employees, customers or prospects. You may need to conduct a face-to-face interview before hiring an employee. But due to time and budget constraints, you may not meet the other party in person. Video conferencing makes it easy to connect with multiple locations, anywhere in the world, in real-time so that you can conduct interviews, team meetings or presentations.
Video conferencing saves travel time and money. Participants can see and hear all other participants and communicate both verbally and visually, creating a face-to-face experience. You can also share PowerPoint Presentations, Videos, Images etc. with others simultaneously on the screen.